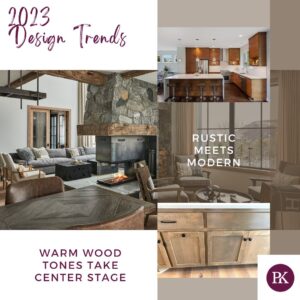 Wondering what's popular for 2023? Here are a few of the big trends we see taking off and gaining momentum.
1. Color of the Year: Viva Magenta
Inspired by one of the brightest and strongest dyes in the world: cochineal. Read more about how and why magenta was chosen as the
color of the year here.
2. Modern Take on Rustic
Whether your style is farmhouse chic, old world spanish, or rustic everything, think contrasting elements. Natural wood cabinets and natural stone countertops create the perfect balance with modern kitchen features. They will give you a look that's fresh with a nod to the past. A great trend for people wanting a classic design with some modern day style and conveniences.
3. Get Sublime with Limewash
Want to give your walls some interesting texture without using chemicals? Try limewashing, it will give them a suede-like appearance with a beautiful patina. Designers, celebrities, and regular homeowners alike have fallen in love with this old-world, textured look, and it's trending up, up, up! How does it work?
Limestone is crushed and heated, then thinned with water and colored with natural pigments—seems new but its it's thought to be the first type of paint ever used, and can be found on ruins from the Roman Empire. Today, its popularity is due to eco-friendliness (natural lime and color pigments make it chemical-free). Limewashed walls adds depth and luminosity for a unique appearance.
4. Time to Lighten Up
Good lighting helps create the mood of your home and is important to both design and functionality. It influences how a room feels and can be an easy update. Right now we are seeing trends towards natural materials in 2023—a continuation of last year's nature-focused design elements. Natural wood and bamboo chandeliers, as well as recycled-glass and rattan pieces will continue in popularity. Also trending wil be lighting fixtures made of mixed metals: gold, brass, and silver to add richness to room design.
5. Wood Cabinets are Back and Gaining Momentum
It's all about adding that natural element in design right now and wood cabinets are trending. Which wood is most popular? White oak is dominating with walnut not too far behind. Wondering what the big fuss is? Come visit our kitchen gallery and we can show you how gorgeous these woods look and feel.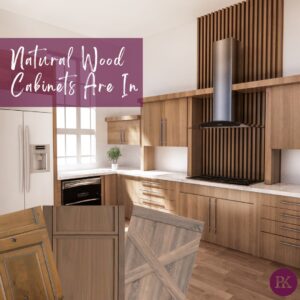 6. Blue and Green Cabinets-Staying In
Adding a pop of color to your island, or, maybe just a section of your cabinets has remained popular. With blue and green leading the charge, colored cabinets will remain popular in 2023. Want some ideas on how to add a bit of cabinet color to your kitchen? Visit our showroom and our staff can show you some great examples.
7. Get Playful with Wallpaper
I know what you're thinking, wallpaper? Really? Yes! There are some fantastic new options out there from eye popping florals, to classy art deco and funky puppy designs. You can add some interest to virtually any room in your home. For 2023 make a statement and bring a burst of energy into your living environment.
Need help designing your kitchen? Our staff of kitchen experts are here to help, stop by our showroom for some free insipiration and ideas. 
Premier Kitchens 3373 Mt. Diablo Blvd. Lafayette 925.283.6500