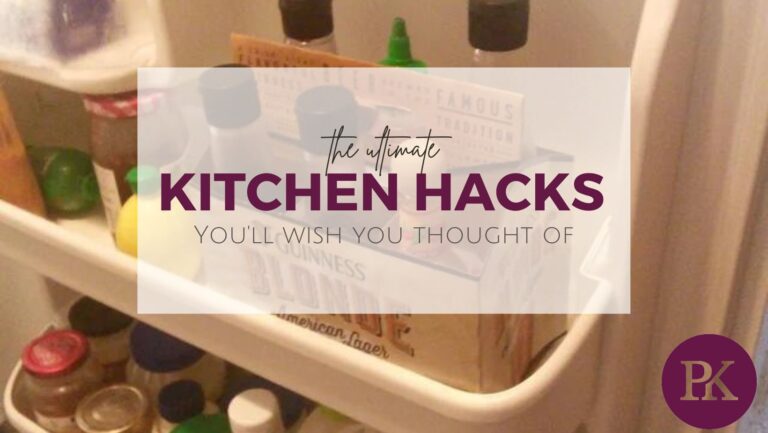 Let's face it between counter clutter and junk drawers it is hard to keep the kitchen clean and organized. Here are a few of our favorite hacks that free up storage space and help your kitchen looking tidy and organized.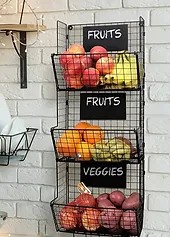 Ditch the fruit bowl and use this creative way to store fruits and vegetables. It's a great way to add some visual interest to a wall, and the possibilities are endless. You can add herb pots, fill containers with dried pasta, etc.
Best part is you can easily make it yourself, or, if you don't have time just purchase it.
Display Shabby Chic Kitchen Tools
Did you inherit your grandma's rolling pin, wooden utensils, and/or cutting boards? Get them out of the drawers and onto the walls. Don't waste the opportunity to add some vintage beauty to your kitchen. Lovely woods and cast iron out on display are also easier to get to when they are just an arms length away. Another fun idea is to use magnetic hooks — same great idea.
Refrigerator Door Bottle Hack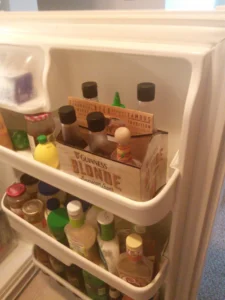 Small bottles in the refrigerator door love tipping over with every open and close. You can use an empty six-pack holder to store the condiments in your refrigerator door, and if you want to get even more organized, select bottles that you typically pull out together for each 6-pack, think ketchup, mayo and mustard…
Under The Sink Storage Hack
Are you storing spray bottles and other cleaning supplies under your sink? Do they keep falling over and making a mess? Thankfully, there are a few cabinet organization tricks to remedy it. To keep your cleaning supplies from tipping over, hang them from a tension rod right inside your cabinet. I know, genius right? Another great idea is to place all of your kitchen cleaning supplies into file folder holders, and putting your frequently used items handily available towards the front.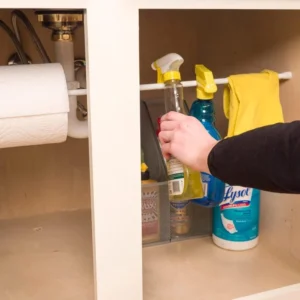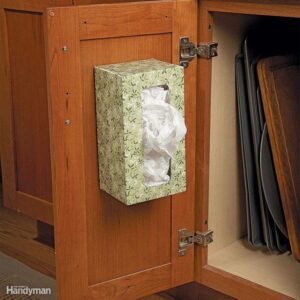 I'm sure you've already heard of using an empty tissue box to hold small garbage bags, plastic grocery bags and small rags. I bet you didn't think of installing it on the inside of a cabinet door for easy access though, we think this idea is pure brilliance.
The best organizational tips and tricks are hidden in your cabinets. In fact, the best part of our job is showing off the very fun and functional cabinet accessories we have displayed at our showroom.
Pop in sometime and see all the new cabinet innovations now available. Our 
Premier Kitchens
showroom is located in downtown Lafayette, CA at 3373 Mt. Diablo Blvd. We hope to see you soon!